<![CDATA[#news_entries #ad_sharebox_260x60 img {padding:0px;margin:0px}]]>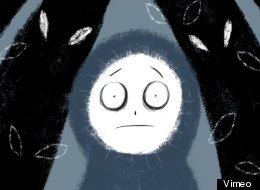 The mastermind behind films that pay homage to the dark and twisted now has an homage of his own. Students at the French school EMCA Angouleme created eight short films dedicated to Tim Burton titled "Hommage Tim Burton."
The eight films span a total of less than 13 minutes, their brevity an art form in itself. A story of terror pressed into such a short time span almost adds to the suspense of the thrillers.
Each film is an animated short with a minimalistic aesthetic. Most are black and white with either line drawings, stop-motion animation or a hybrid of both. This combination itself is a tip of the hat to Burton's simple, fantastically unnerving characters.
One of the eeriest is "Jolie-Maman," which tells the story of a catatonic young girl that takes the form of a doll. The wide-eyed, TV-screen-staring child brings to mind "Poltergeist" and "The Ring" mashed into two and a half minutes.
WATCH "Hommage Tim Burton:"
Related on HuffPost:
"; var coords = [-5, -72]; // display fb-bubble FloatingPrompt.embed(this, html, undefined, 'top', {fp_intersects:1, timeout_remove:2000,ignore_arrow: true, width:236, add_xy:coords, class_name: 'clear-overlay'}); });
»>
News|Headlines|report|exclusive|coverage|world|global,politics